A Ministry of Bryce Lowance
The Blessing of Belief
9 February 2014
And blessed is she that believed: for there shall be a performance of those things which were told her from the Lord. Luke 1:45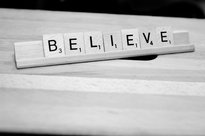 One of the definitions of blessed is happiness or joy. But what is true joy? Is it laughing at a funny movie or cheering at baseball game? Is it being the richest person on earth or being famous? While these things are enjoyable, I believe they fall short of the true meaning of joy found in Scripture.
Mary and Elisabeth are alone in a small house on the north side of Judah. Mary is the daughter of a farmer from  a poor town in Galilee. Elisabeth is the wife of a priest, but neither woman has any standing in the community. They are just two poor, pregnant cousins sitting in a room together, and yet they are the happiest people on earth!
 Why?
 It's simple. They believed.
They believed the gospel message that Gabriel spoke and it caused them to have great joy.  Neither one of them doubted or questioned the message like Zacharias did.  They may not have even understood everything that was said, but they believed, they trusted God, AND they were happy!
There is a key point in the close of Elisabeth's statement to Mary that cannot be overlooked. She says that there shall be a performance of the things the angel proclaimed. Regardless of Mary's belief, the Holy Ghost had visited Mary, and the Messiah was now on His way.  God was working these things in His sovereign will and power. Mary embraced the message of the gospel as a FACT and it gave her great comfort and joy.
We too should look at the gospel of the sovereign grace of God like Mary and Elisabeth.  The Bible clearly states that
God chose His elect before the world began.
He sent His Son, Jesus, to die for His people.
The Holy Ghost comes in power to regenerate every one of the elect. (This makes it possible for us to believe because Jesus is the author of our faith.)
Jesus will return at the end of time to take them all home.
And we know that all things work together for good to them that love God, to them who are the called according to his purpose. For whom he did foreknow, he also did predestinate to be conformed to the image of his Son, that he might be the firstborn among many brethren. Moreover whom he did predestinate, them he also called: and whom he called, them he also justified: and whom he justified, them he also glorified. - Romans 8:28-30
Jesus did not come to make salvation possible. He came to save! God will gather His children, some of whom do not fully embrace the doctrines I mentioned above. However, God's sovereignty is not limited by man's unbelief.
If we truly want the joy of living a life of liberty in the finished work of Christ, we should embrace the gospel of grace. We should believe it, seek to know more of it, and live in its liberty.
That is blessed.
« Mother of Whom? | Magnificent Rejoicing »
Tags: belief, elisabeth, fatih, gabriel, gospel_of_luke, harmony_of_the_gospels, mary, sovereignty, zacharias
Welcome
Brentwood Hills Primitive Baptist Church is a community of believers working together to transform our lives to the image of Jesus Christ. We believe it is our duty and privilege to live the gospel of the doctrines of grace in such a way as to edify the families within our church and other children of God in our community. Through regular worship based on strong Biblical principles, fellowship, admonishment, and outreach, we glory in the grace of the sovereign God working in our lives thereby showing the Spirit of God in the world.
23 October 2017

22 October 2017

21 October 2017
Content
This is some content. This is some content. This is some content. This is some content. This is some content. This is some content. This is some content. This is some content. This is some content. This is some content.