A Ministry of Bryce Lowance
Magnificent Rejoicing
10 February 2014
And Mary said, My soul doth magnify the Lord, And my spirit hath rejoiced in God my Saviour. - Luke 1:46-47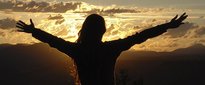 Mary's song breaks forth immediately in strains of joy and gladness! Her happiness is not a superficial or temporary one. Her joy comes from deep within and acknowledges the majesty and wonder of the Almighty.
She sees that her salvation lies fully in the powerful hand of God. This does not bring her fear that she has no control. Rather, it gives her absolute joy to feel the liberty of having a Savior Who is totally sovereign in His redemptive work.
Even though there are literally scores of different denominations in the Christian world, there are really only two camps when it comes to the doctrine of salvation -
God is sovereign and all powerful.
God is not sovereign and all powerful.
If a person believes that God did His part and we must complete the work, that person does not believe in the sovereign power of the Almighty. Or else, what does sovereign and all powerful mean? Is God truly sovereign if eternal salvation is limited by our actions or choice? Is God truly all powerful if man has the ability to resist His regenerating work? Paul said:
For he saith to Moses, I will have mercy on whom I will have mercy, and I will have compassion on whom I will have compassion. So then it is not of him that willeth, nor of him that runneth, but of God that sheweth mercy. - Romans 9:15-16
Whether a person wants to believe it or not, option #1 above is the truth. However, our embracing of this fact or not will have drastic implications in regard to our feelings of joy and security.
Mary surrendered all to the knowledge of the sovereignty of God, and that set her free. She was so free that her soul, spirit, and body broke forth into singing!
« The Blessing of Belief | So, Why Is Mary So Happy? »
Tags: faith, gabriel, gospel_of_luke, harmony_of_the_gospels, jesus, mary, rejoice, sovereignty
Welcome
Brentwood Hills Primitive Baptist Church is a community of believers working together to transform our lives to the image of Jesus Christ. We believe it is our duty and privilege to live the gospel of the doctrines of grace in such a way as to edify the families within our church and other children of God in our community. Through regular worship based on strong Biblical principles, fellowship, admonishment, and outreach, we glory in the grace of the sovereign God working in our lives thereby showing the Spirit of God in the world.
23 October 2017

22 October 2017

21 October 2017
Content
This is some content. This is some content. This is some content. This is some content. This is some content. This is some content. This is some content. This is some content. This is some content. This is some content.