A Ministry of Bryce Lowance
The King Is Coming!
30 January 2014
Fear not, Mary: for thou hast found favour with God. And, behold, thou shalt conceive in thy womb, and bring forth a son, and shalt call his name Jesus. He shall be great, and shall be called the Son of the Highest: and the Lord God shall give unto him the throne of his father David: And he shall reign over the house of Jacob for ever; and of his kingdom there shall be no end. - Luke 1:30-33
Looking once again at this amazing angel visitation, we find the angel Gabriel treating Mary in a loving and friendly manner. He calls her by name to calm her fears and pronounces the greatest blessing to her that anyone can hear, she has found favor with God! Nothing in man can please God, so this favor came straight from God's love for her and His desire to bless her!
In fulfillment of the prophecies of the Isaiah, the Messiah will be born of a virgin (Isaiah 7:14). That virgin is Mary. Luke is diligent to record that the angel shouts "behold" before he tells Mary that she will give birth to a son. This adds further evidence that this birth will be like no other. Mary had never been intimate with a man and would remain so until after Jesus is born. Jesus will be born of a pure virgin.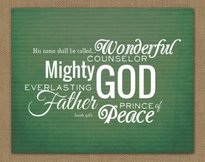 More marvelous details about this baby are proclaimed by Gabriel as well:
The final bullet point above may seem strange to some who have been taught something different about the return of Jesus Christ. However, the message of the angel Gabriel has always been that Jesus's kingdom would commence when He comes the first time.
And in the days of these kings shall the God of heaven set up a kingdom, which shall never be destroyed: and the kingdom shall not be left to other people, but it shall break in pieces and consume all these kingdoms, and it shall stand for ever. - Daniel 2:44

And there was given him dominion, and glory, and a kingdom, that all people, nations, and languages, should serve him: his dominion is an everlasting dominion, which shall not pass away, and his kingdom that which shall not be destroyed. - Daniel 7:14
« Gabriel Visits Mary | Mary Knows Biology »
Tags: gabriel, gospel_of_luke, harmony_of_the_gospels, jesus, mary
Welcome
Brentwood Hills Primitive Baptist Church is a community of believers working together to transform our lives to the image of Jesus Christ. We believe it is our duty and privilege to live the gospel of the doctrines of grace in such a way as to edify the families within our church and other children of God in our community. Through regular worship based on strong Biblical principles, fellowship, admonishment, and outreach, we glory in the grace of the sovereign God working in our lives thereby showing the Spirit of God in the world.
23 October 2017

22 October 2017

21 October 2017
Content
This is some content. This is some content. This is some content. This is some content. This is some content. This is some content. This is some content. This is some content. This is some content. This is some content.