A Ministry of Bryce Lowance
I Love MY Savior
24 February 2014
And his father Zacharias was filled with the Holy Ghost, and prophesied, saying, Blessed be the Lord God of Israel; for he hath visited and redeemed his people, and hath raised up an horn of salvation for us in the house of his servant David; Luke 1:67-69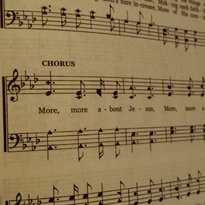 Zacharias, speaking by the same spirit of prophecy that had filled Elisbabeth, Mary, and his son John in the womb, begins his song with praise to God. Unlike many praise songs of today that repeat the same thing over and over again, Zacharias calls God blessed, and then he gives reasons why!
In this first "verse" of his song, Zacharias reminds us that we have a personal Savior. But let me explain what I mean by that phrase. It is personal, not because of our decision to make it personal, but because God moved toward us and visited us.
God made it personal by choosing His elect before the world began. God made it personal by sending His Son to die particularly for all those He chose. God personally, in the Spirit, gives eternal life to each of the elect in the new birth. And finally, God will call each one of His elect home to glory in the resurrection.
Zacharias further tells us that God has sent a powerful Savior to accomplish this redemption. The horn is a symbol of power for an animal just like the arm is the symbol of power for a man. If Jesus came and died on the cross only to make salvation a possibility, then He does not seem very powerful does He?  The truth is–He is able, and will, save the all to the uttermost!
Jesus summed it up this way:
All that the Father giveth me shall come to me; and him that cometh to me I will in no wise cast out. For I came down from heaven, not to do mine own will, but the will of him that sent me. And this is the Father's will which hath sent me, that of all which he hath given me I should lose nothing, but should raise it up again at the last day. - John 6:37-39
« God Willing | A Covenant Keeping God »
Tags: elect, gospel_of_luke, harmony_of_the_gospels, jesus, sovereignty, zacharias
Welcome
Brentwood Hills Primitive Baptist Church is a community of believers working together to transform our lives to the image of Jesus Christ. We believe it is our duty and privilege to live the gospel of the doctrines of grace in such a way as to edify the families within our church and other children of God in our community. Through regular worship based on strong Biblical principles, fellowship, admonishment, and outreach, we glory in the grace of the sovereign God working in our lives thereby showing the Spirit of God in the world.
23 October 2017

22 October 2017

21 October 2017
Content
This is some content. This is some content. This is some content. This is some content. This is some content. This is some content. This is some content. This is some content. This is some content. This is some content.