A Ministry of Bryce Lowance
Can I Get An Amen?
2 February 2014
For with God nothing shall be impossible. And Mary said, Behold the handmaid of the Lord; be it unto me according to thy word. And the angel departed from her. - Luke 1:37-38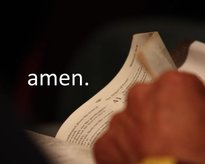 Mary has just been told one of the most amazing things in history, and she had no doubts. She trusted God. She may not have understood what all was happening but she trusted The Lord faithfully. Perhaps more importantly, her humility shown through instead.  She calls herself a handmaid of the Lord.  She does not seek glory and honor as some would give her.  She she's what is happening to her as a great blessing from God and as a service to the most High God.
The phrase "be it unto me" is much like "so be it" or "I agree." However, Mary is not giving permission for this to take place, God or Gabriel never asked permission. She is acknowledging what Gabriel said and agrees that what God is doing is wonderful! Her response is basically a hearty, AMEN!
We need to have this same humble and trusting attitude. When God has said that something is going to happen, we need to understand that IT IS GOING TO HAPPEN. We need to be reconciled to His sovereign power, say Amen and then get going with whatever things the Lord would have us to do.
We have choice if we want to be identified as a Biblical Christian. Do we believe every word and event is true, even the miracles? If not, then are we not more like doubting Zacharias and less like faithful Mary? The word Christian, as well as disciple (and others like it), are Biblically defined words. Therefore, if we desire to be identified by one of these terms, we must bow to the definition the Bible provides. The writers of the books believed everything they wrote came from God including the miracles and other extraordinary events. If we believe the Bible to be true then we must believe it all to be so. Just like Mary, we may not understand everything we read but that does not mean should reject it in doubt. That is why God gave us faith so that we can trust Him, and still say Amen based upon His faithfulness and omnipotence.
« Mary Knows Biology | Amen, Let's Go! »
Tags: gabriel, gospel_of_luke, harmony_of_the_gospels, mary
Welcome
Brentwood Hills Primitive Baptist Church is a community of believers working together to transform our lives to the image of Jesus Christ. We believe it is our duty and privilege to live the gospel of the doctrines of grace in such a way as to edify the families within our church and other children of God in our community. Through regular worship based on strong Biblical principles, fellowship, admonishment, and outreach, we glory in the grace of the sovereign God working in our lives thereby showing the Spirit of God in the world.
Brentwood Hills was organized in 1906 in Fort Worth, Texas as Laodicea Primitive Baptist Church. You can find much of the history of the church, as well as other churches here: Primitive Baptist History Database
We identify ourselves as an old-line Primitive Baptist church. If you read our Articles of Faith, you'll see that we hold to such doctrines as the inspiration and inerrancy of the Bible. We recognize the King James Version (KJV) as the only English translation worthy of being called the Bible. We believe in salvation solely by the grace of a sovereign God. We believe that Jesus Christ, the only begotten Son of God, came to the earth to do the will of His Father, which was to deliver from the sentence of death all those the Father gave Him before the world began. We believe that Jesus fully satisfied the Father by atoning for all the sins of all His people. In time, we believe the Holy Spirit comes to each person that belongs to Jesus and regenerates them. Then (and only then) can anyone have faith, which is a fruit of the Spirit, by which you are able to believe the glorious gospel of Jesus Christ. Whether or not you ever hear the gospel, or believe it if you did hear it, or obey it if you did believe it, rest assured that Jesus will remain forever faithful to you because, if He died for you, He will never deny that you belong to Him.
We believe that everyone for whom Christ died will without fail be raised again from the dead to a glorified life. Even if we are alive when He returns to raise the dead, we shall be changed to a glorified life. All the Redeemed will meet the Lord in the air. Then He will take us to Heaven and there we shall forever be with the Lord. The wicked will be raised at the same time as the righteous, but the wicked shall go away into everlasting punishment along with Satan and his angels. Until that glorious day when Christ returns to raise the dead, He has provided a place for His people to find rest for their souls. This place is the Church. Jesus Christ set-up His church on this earth before His death on the Cross. The church is there for those of His people who have come to believe that God saved them by His Son, Jesus Christ. To believe that Christ "paid it all" gives believers the strongest motivation to serve Him. Once enlightened to this glorious truth, then the child of God should feel an obligation to become and remain an active member of the His church. To serve the Lord in His church makes for one of the great blessings to experience this side of Heaven. It fulfills you to serve in His church and it gives your life purpose and meaning.
Elder Ward Rowell named Pastor
Brentwood Hills Primitive Baptist church is happy to announce that Elder Ward Rowell of Arlington, TX has accepted the church's call to be its Pastor. Elder Ward has been visiting Brentwood Hills regularly this year as we looked for a new pastor. His love, dedication and liberty while preaching to us over the last several months showed the Holy Spirit working.
Elder Rowell has been a member of Old School Primitive Baptist Church since 2000 faithfully serving under Pastor Mike Montgomery. After joining Grace Primitive Baptist Church in Houston, TX in June of 1972, he was ordained to the office of deacon in September of 1983. Elder Rowell was ordained to the ministry by Old School Primitive Baptist Church in November of 2006. He and Cathy were members of Houston Primitive Baptist Church for eight years prior to moving from Houston to the Dallas area.
We are truly thankful for the prayers of our sister churches during this time. It has been a blessing as God continues to be patient and kind to his people in this place. We pray that he will continue with us as we strive to serve the Lord together.
23 October 2017

22 October 2017

21 October 2017