A Ministry of Bryce Lowance
Can I Get An Amen?
2 February 2014
For with God nothing shall be impossible. And Mary said, Behold the handmaid of the Lord; be it unto me according to thy word. And the angel departed from her. - Luke 1:37-38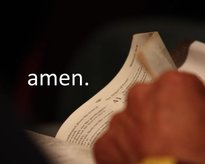 Mary has just been told one of the most amazing things in history, and she had no doubts. She trusted God. She may not have understood what all was happening but she trusted The Lord faithfully. Perhaps more importantly, her humility shown through instead.  She calls herself a handmaid of the Lord.  She does not seek glory and honor as some would give her.  She she's what is happening to her as a great blessing from God and as a service to the most High God.
The phrase "be it unto me" is much like "so be it" or "I agree." However, Mary is not giving permission for this to take place, God or Gabriel never asked permission. She is acknowledging what Gabriel said and agrees that what God is doing is wonderful! Her response is basically a hearty, AMEN!
We need to have this same humble and trusting attitude. When God has said that something is going to happen, we need to understand that IT IS GOING TO HAPPEN. We need to be reconciled to His sovereign power, say Amen and then get going with whatever things the Lord would have us to do.
We have choice if we want to be identified as a Biblical Christian. Do we believe every word and event is true, even the miracles? If not, then are we not more like doubting Zacharias and less like faithful Mary? The word Christian, as well as disciple (and others like it), are Biblically defined words. Therefore, if we desire to be identified by one of these terms, we must bow to the definition the Bible provides. The writers of the books believed everything they wrote came from God including the miracles and other extraordinary events. If we believe the Bible to be true then we must believe it all to be so. Just like Mary, we may not understand everything we read but that does not mean should reject it in doubt. That is why God gave us faith so that we can trust Him, and still say Amen based upon His faithfulness and omnipotence.
« Mary Knows Biology | Amen, Let's Go! »
Tags: gabriel, gospel_of_luke, harmony_of_the_gospels, mary
Welcome
Brentwood Hills Primitive Baptist Church is a community of believers working together to transform our lives to the image of Jesus Christ. We believe it is our duty and privilege to live the gospel of the doctrines of grace in such a way as to edify the families within our church and other children of God in our community. Through regular worship based on strong Biblical principles, fellowship, admonishment, and outreach, we glory in the grace of the sovereign God working in our lives thereby showing the Spirit of God in the world.
23 October 2017

22 October 2017

21 October 2017
Content
This is some content. This is some content. This is some content. This is some content. This is some content. This is some content. This is some content. This is some content. This is some content. This is some content.