A Ministry of Bryce Lowance
Which Came First, Fear Or Mercy?
12 February 2014
And his mercy is on them that fear him from generation to generation. - Luke 1:50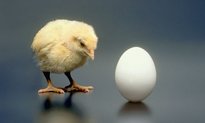 Fear does not cause God to have mercy.  Fear of the Lord is the evidence of the hand of mercy upon a person.
When Jonah ran from his duty to preach to Ninevah, he boarded a ship to get away. The ship soon found herself in the worst storm the mariners had ever seen and they were all afraid. We all, hopefully, know the events of the story which follow. They discover it was Jonah's fault that they were in trouble. They throw him overboard, and God stops the storm. The Bible then records this:
Then the men feared exceedingly, and offered a sacrifice unto the LORD, and made vows. - Jonah 1:16
The men were afraid before. But after an act of mercy, they feared the Lord exceedingly. Their fear was the evidence of God's mercy, not the cause.
Another proof that fear does not cause God to have mercy on someone is found in James:
Thou believest that there is one God; thou doest well: the devils also believe, and tremble. - James 2:19
Neither fear, nor even belief, caused a single devil to suddenly become a child of God by obligating God to have mercy on him.
The fear the devils have is fear of their destruction. The fear the child of God has is that he sees that God has the right and power to wipe him off the face of the earth but sovereignly chooses not to!
Peter came to the same conclusion after preaching in Cornelius's house.
Then Peter opened his mouth, and said, Of a truth I perceive that God is no respecter of persons: But in every nation he that feareth him, and worketh righteousness, is accepted with him. - Acts 10:34-35
The evidence of God's mercy and salvation of a person has nothing to do with what family they are part of or in which country they are born. The two clearest evidences of mercy in a person's life are the fear of God and the working of righteousness.
Peter does not include belief in his list. That is not to negate the importance of belief for assurance, but people believe lots of different doctrines. Some of God's children believe is sovereign grace, some do not. Some of God's children believe in election and predestination, some do not.  Belief is a hard evidence to evaluate because of doctrinal nuances and peculiarities.  However, "fear of God" and "working righteousness" are pretty clear cut and easy to see.
« So, Why Is Mary So Happy? | "I Did It My Way" - God »
Tags: belief, fatih, gabriel, gospel_of_luke, harmony_of_the_gospels, mary, sovereignty
Welcome
Brentwood Hills Primitive Baptist Church is a community of believers working together to transform our lives to the image of Jesus Christ. We believe it is our duty and privilege to live the gospel of the doctrines of grace in such a way as to edify the families within our church and other children of God in our community. Through regular worship based on strong Biblical principles, fellowship, admonishment, and outreach, we glory in the grace of the sovereign God working in our lives thereby showing the Spirit of God in the world.
Brentwood Hills was organized in 1906 in Fort Worth, Texas as Laodicea Primitive Baptist Church. You can find much of the history of the church, as well as other churches here: Primitive Baptist History Database
We identify ourselves as an old-line Primitive Baptist church. If you read our Articles of Faith, you'll see that we hold to such doctrines as the inspiration and inerrancy of the Bible. We recognize the King James Version (KJV) as the only English translation worthy of being called the Bible. We believe in salvation solely by the grace of a sovereign God. We believe that Jesus Christ, the only begotten Son of God, came to the earth to do the will of His Father, which was to deliver from the sentence of death all those the Father gave Him before the world began. We believe that Jesus fully satisfied the Father by atoning for all the sins of all His people. In time, we believe the Holy Spirit comes to each person that belongs to Jesus and regenerates them. Then (and only then) can anyone have faith, which is a fruit of the Spirit, by which you are able to believe the glorious gospel of Jesus Christ. Whether or not you ever hear the gospel, or believe it if you did hear it, or obey it if you did believe it, rest assured that Jesus will remain forever faithful to you because, if He died for you, He will never deny that you belong to Him.
We believe that everyone for whom Christ died will without fail be raised again from the dead to a glorified life. Even if we are alive when He returns to raise the dead, we shall be changed to a glorified life. All the Redeemed will meet the Lord in the air. Then He will take us to Heaven and there we shall forever be with the Lord. The wicked will be raised at the same time as the righteous, but the wicked shall go away into everlasting punishment along with Satan and his angels. Until that glorious day when Christ returns to raise the dead, He has provided a place for His people to find rest for their souls. This place is the Church. Jesus Christ set-up His church on this earth before His death on the Cross. The church is there for those of His people who have come to believe that God saved them by His Son, Jesus Christ. To believe that Christ "paid it all" gives believers the strongest motivation to serve Him. Once enlightened to this glorious truth, then the child of God should feel an obligation to become and remain an active member of the His church. To serve the Lord in His church makes for one of the great blessings to experience this side of Heaven. It fulfills you to serve in His church and it gives your life purpose and meaning.
Elder Ward Rowell named Pastor
Brentwood Hills Primitive Baptist church is happy to announce that Elder Ward Rowell of Arlington, TX has accepted the church's call to be its Pastor. Elder Ward has been visiting Brentwood Hills regularly this year as we looked for a new pastor. His love, dedication and liberty while preaching to us over the last several months showed the Holy Spirit working.
Elder Rowell has been a member of Old School Primitive Baptist Church since 2000 faithfully serving under Pastor Mike Montgomery. After joining Grace Primitive Baptist Church in Houston, TX in June of 1972, he was ordained to the office of deacon in September of 1983. Elder Rowell was ordained to the ministry by Old School Primitive Baptist Church in November of 2006. He and Cathy were members of Houston Primitive Baptist Church for eight years prior to moving from Houston to the Dallas area.
We are truly thankful for the prayers of our sister churches during this time. It has been a blessing as God continues to be patient and kind to his people in this place. We pray that he will continue with us as we strive to serve the Lord together.
23 October 2017

22 October 2017

21 October 2017